Link Detox Boost®
Recover from a Google Penalty Faster with Link Detox Boost®
Disavowing Links doesn't work?
Are you suffering a Google Penalty?
Are you disavowing links with the Google Disavow Tool?
Does it "not work" or take months?
Are you still waiting months for your Google penalty recovery?
Tired of hoping for Google to let you out?
How much is it worth to your business to save 3 months traffic drop?
Boost your Google Penalty Recovery TODAY!
Link Detox Boost – Helps you Get Rid of a Google Penalty
Link Detox Boost speeds up recovery from a Google Penalty
Seamless integration with Link Detox® and the Link Detox Genesis® algorithm
Trigger Link Detox Boost with one click from your Link Detox report
Supports custom Disavow Files from other link risk analysis tools
Stable technology tested & approved for years
Link Detox Boost works – real life examples
Large brand removed and disavowed links after a Penguin and Manual Action
Failed in 2 reconsideration requests
Finally disavowed all High and Medium link audit priority links according to Link Detox Genesis
Ran Link Detox Boost and filed 3rd reconsideration request with Google
Penalty lift – Recovered FULLY within weeks
2 Months later more traffic than EVER
Case Study presented in November here: Watch Video
Link Detox Boost also works for Penguin!
UPDATE Feb 10, 2014 – we have it confirmed that Link Detox Boost also works on algorithmic penalties (filters).
The client disavowed ~40% of his links on Friday, got the Domain-wide Link Detox Risk (Domain DTOXRISK™) down to 207, ran Link Detox Boost on Monday, and had an almost instant jump of 20 positions.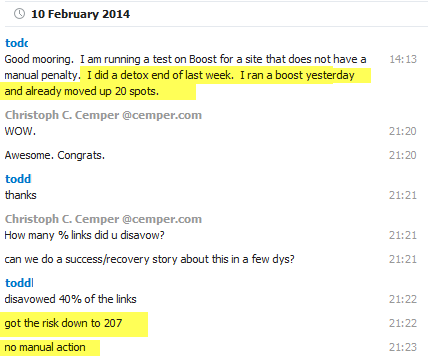 LinkResearchTools is trusted by the world's most respected brands.
Read what our users say about Link Detox.